Have you guys heard about Liberty German and Abigail Williams? They were the teens murdered in Delphi, Indiana. If you haven't, here is a
link to CBS News
. I'm not sure how much exposure it has had outside of Indiana. I live in Indiana, so it is huge news here. It really breaks my heart. I really wish people could be kind and good to one another. Really, if not that, just leave other people alone. Anyone else feel the same? It really is that simple.
This is an image of the man, There is audio available also. If you haven't heard the audio, please take the time to listen. Please listen even if you don't live in the area. This person may have been traveling through. How often do we have images of a suspect? This kind of picture is rare and I want to believe that with this picture, getting a murderer off the street is possible. If nothing else, he may be able to provide information. I know the image isn't great, but maybe it will trigger someone to remember something.
I blogged about
some of the messiest moments
I have experienced since becoming a mother. I definitely want to know what ones other moms would add to list. So let me know.
My First Weekend With No Kids In Two Years!!! Whoohoo....sorta.
Heidi was born 2 years and 2 months ago. Aside from quick drive into town to the store, I had only been without both my kids at the same time twice. Once for a 2 hour haircut/color and Heidi cried the whole time. The second time my mom took them to the orchard while we were visiting her.
This weekend was a game changer. Both kids went to my mom's house Friday night and I didn't get them back until Sunday afternoon. Yeeeesss! I love my kids, but a weekend break....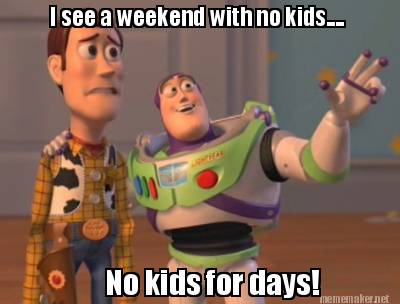 Everything went good for them, but I knew something wasn't right with me . I had some weird pain behind my ear and I felt like I was losing my taste. Sunday morning I wasn't able to smile anymore. I tried to stay calm and put off going to a doctor until Monday. That didn't work and I ended up going to to the hospital. They told me I have Bell's Palsy. It's facial paralysis on one side of my face. It should be temporary. I think most people are familiar with a person having a droopy face and no movement after a stroke. It's similar.
I wish I could say I am taking it well, but to be honest, I'm not. Not being able to close my eye is so uncomfortable. It is by far the worst part. I also have headaches and the ear pain has continued. I can't drink or eat easily. Nothing tastes good. If you have any experience with this, let me know how it turned out and what you did to cope until it got better. I just thought,
of course it happens when I don't have the kids.
Thanks for stopping by Off The Vine!
Click
HERE
to see all the great places I link up @.