This post is linked-up @ The Glam Series on
Love Always, Nancy J
L. The topic this week is nail polish.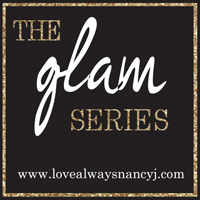 I don't have one. I just purchase one at whatever store I am when getting a new color. Hopefully when I am checking out the other blogs I will find some new ones to try.
Boom Boom by Sinful Colors
I started wearing this color 2011 and have loved it ever since! I know bright shades aren't trendy, but I love them. It works great for fingernails and toes. It is the only fingernail polish color that have worn over several years. Normally I buy a bottle and move on from the color before I get half way it. Boom Boom was the first Sinful Colors bottle I purchased. I was at a pretty rough place at that time. Money was very tight and it was only 99 cents. It's still a bargain at only 1.99, easily accessible (I go to Walgreen's) and there are tons of colors.
Honestly, I have never used Essie, so by default, it's OPI. It's a great brand of polish. I do like to get the OPI polish when I want a red toe nail polish in the summer. I trust how well it stays on.